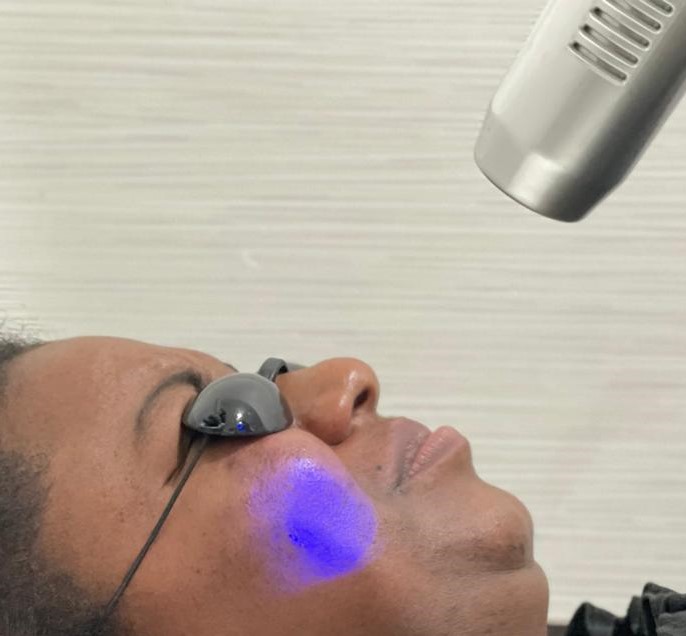 Using phototherapy to treat Cosmetic/beauty related ailments is becoming very popular in present days. According to the great physicist Albert Einstein, it was predicted in early 20th century that "Future medicine will be the medicine of frequencies."
The Terahertz waves (THz) are electromagnetic waves, located in the spectrum between the radio wave frequency and the optical wave frequency. 
The THz light has a high sensitivity to soft tissues because of its non-ionizing nature. It is very safe to use Terahertz on our skin as it does not cause any harmful effects for the cells or affect their viability. With regards to cosmetic treatment, Terahertz stimulates skin regeneration. It stimulates the synthesis of collagen which may promote skin rejuvenation. This is why it is used in anti-aging treatment in aesthetic clinics. It may also promote acne and other scar healing because of its skin regeneration effect.
The Terahertz also has an effect on wound healing. It promotes the synthesis of Fibrin which is needed for wound healing. This promotes its use for active skin lesions as it repairs damaged cells and strengthens the normal cells simultaneously.  It expels the damaged cells. The Terahertz further enhances microcirculation by clearing the blocked passages & vessels. The improved blood flow activates the body's immune system too which is very useful in treating cosmetic related skin conditions. When the blood flow is regulated, the overall health will improve tremendously.
Ultimately the natural healing process of our body is activated via Terahertz treatment. According to the latest research, these waves have the ability to detoxify our body cells too. Therefore, Terahertz treatment will increase the Glowness of your skin making it more and more healthy.
The Terahertz treatment should be conducted by a properly trained Cosmetic Physician as these waves generates heat which may be painful.